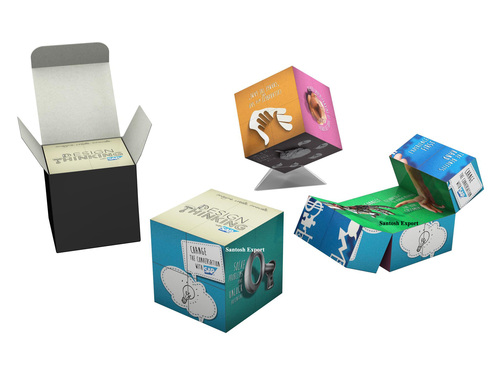 Magic Cube
Product Code : FOLCUB
Product Description
Folding Cube / Magic Cube
Manufacturer exporter of Folding Magic Cube.
This cubes power of attraction inspires customers and prospects to reach for, examine, and explore it with eyes locked onto on your enterprises virtues. You can put the rich pageant of your corporate past, present, and future on prominent display, present all your products and services, or zoom in on select details.
Everyone whose first exposure to your company comes by way of an experience as unconventional as this instinctively knows that you have something very special to offer.
The reason for this is that the cube appeals to multiple senses, which stimulates the brain and reinforces the message. The act of unfolding the cube imprints its content on the mind. And the fact that the cube is so fun to play with conjures positive emotions that reflect well on your company.
Sizes Available :
70 x 70 x 70 mm
50 x 50 x 50 mm

With or without Magnets

For product launches, as a 3D Catalogue, a calendar or an invitation, you can rely on the communication magic of the Folding Cube.
Solutions :-
Employer Branding
Company Information
Prospect Gifting
Product Launch
Events
Product Showcase
Calendar
Material : Blocks : Black HIPS Plastic
Labels : Plastic labels printed offset
Magnetic closure : 8 Magnets
Packaging : Shrink wrap
MOQ Applies : 1000 pieces
Contact Us
A-23, Friends Colony (East), Mathura Road, New Delhi, Delhi, 110065, India
Phone :91-11-26325128